"Supporting Youth through Challenge,
Focus & Motivation"
Part of the
"Out of Hours Active Leisure & Learning" Initiative©
Introduction
MLS-Community.com© provides a range of specialist services designed to meet the needs of:


The Professional Youth Work Community
Schools and After School Clubs
Local Education Authorities
Specialist Support Agencies
Community Associations
Residents Associations
Clubs
Societies
...and other national and international youth organisations such as the Duke of Edinburgh Award, the Outreach Programme, Country Holidays for Inner City Kids (CHICKS), Army Cadets, Crime Concern and the Youth Justice Board, amongst others.



Our Philosophy
Our philosophy is based upon our belief that young people need to have goals and be involved in activities that, as our motto highlights, keep them challenged, focused and motivated.

Young minds and bodies need stimulation, exercise, self-respect and a sense of belonging.

In most cases, these requirements are met via the traditional channels such as the family, school and social interaction with peer groups through membership of youth organisations and participation in organised sport.



An increasing number of young people however, are not having these requirements met. In such cases, financial constraints, social exclusion, ethnic prejudice or inadequate parental or guardian support preclude these young people from having adequate access to the traditional sources of acquiring these vital "life-skills".

This can often lead to disenchantment and a downward spiral in which a feeling of being different or disadvantaged leads to insecurity, often resulting in anti-social, drug-related and criminal behaviour.


Our Mission
The principal purpose of our professional instructors is to assist literally thousands of young people every year to access these activities via our extensive Leisure & Skills Programmes.


Our Programmes
At MLS-Community.com© we deliver innovative and fun activity-based and seminar-based youth programmes. The kudos, lifestyle and psyche attached to most of our activities such as Paintball Sports and Skateboarding for example, is one readily accepted by today's youth culture, and therefore facilitates our underlying aim of promoting self-respect, self-confidence and a sense of belonging amongst programme and events participants - whilst having fun!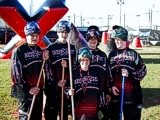 Via constantly working with young people we are able to tap into the current Youth Culture which they themselves value, uphold and promote; and use this as a hook to engage "at their level" with some of the most difficult to reach young people.




After the Programme
We then encourage continued participation and ongoing contact in a variety of ways after the programme is completed.




For further information, or to arrange an initial appointment with one of our Consultants to discuss your needs and ideas without obligation, feel free to contact us online or call us on Tel. 08700 630063*.

(* UK Standard National Rate)